Launch of the Hydrogen Corridor Development Plan in the Yangtze River Delta Region
Release:2018-05-10 Source:International Hydrogen Fuel Cell Association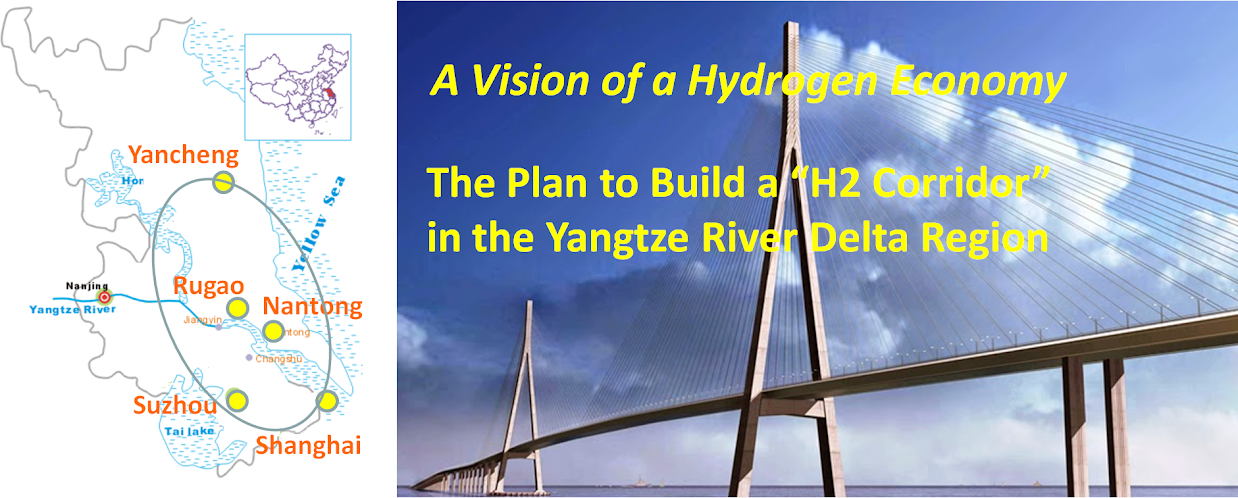 SHANGHAI, 28 April 2018 -- The initiation meeting to develop a world class "Hydrogen Corridor" in the Yangtze River Delta Region was held in Shanghai. This marks the official launch of the Hydrogen Corridor Development Plan in the Yangtze River Delta Region.
The International Hydrogen Fuel Cell Association (IHFCA) and the Society of Automotive Engineers of China (SAE-China), in conjunction with Shanghai and four cities (Suzhou, Rugao, Nantong and Yancheng) in Jiangsu Province, will develop a plan with technical and economic feasibility to build the world-class hydrogen infrastructure linking five cities below:
SHANGHAI, at the southeast end of the Corridor, positions itself as a leading hydrogen demonstration city in China. Shanghai has a plan to develop a number of fuel cell vehicle demonstration centers with required hydrogen infrastructure, including 50 hydrogen refueling stations for 20,000 fuel cell passenger cars and 10,000 fuel cell commercial vehicles by 2025.
SUZHOU, at the southwest end of the Corridor, recently released its preliminary plan for FCV development with focus on commercial vehicles. The plan aims to realize 800 fuel cell buses and logistics vehicles along with 10 hydrogen fueling stations by 2020, and scale up to 10,000 fuel cell commercial vehicles and 40 stations by 2025.
RUGAO, UNDP's first Hydrogen Economy Demonstration City, has a cluster of fuel cell developers and FCV companies. The City, as a global front-runner with regard to the development, testing and commercialization of hydrogen fuel cells, has taken the leadership in China's emerging FCV industry over the past few years.
NANTONG, in the center of the Corridor, is an important automotive hub in China especially for New Energy Vehicles. The City is known for its high tech sectors, which account for half of its GDP that had a growth rate of 7.8% in 2017. Nantong has set hydrogen fuel cells, strategically and tactically, for its future economic growth.
YANCHENG, at the north end of the Corridor, is an emerging city in clean energy development. The City has a big plan for hydrogen development as it has done for solar energy. From 2010 to 2017 Yancheng's photovoltaic electricity generation capacity has increased from 3 million kilowatt-hours to 958 million kilowatt-hours.
These five cities are expected to generate the synergy for hydrogen economy development in China, with integrated efforts to create the country's largest hydrogen fuel cell industry belt. It's the first time that China plans to build a trans-provincial and cross-regional hydrogen infrastructure for FCV development. The collaboration will not only accelerate hydrogen station construction in the region, but also accumulate valuable technical and business knowledge that will benefit all for hydrogen infrastructure development nationally and internationally.
As emphasized by Mr. Zhang Jinhua, Executive Vice President and Secretary General of the SAE-China, and Mr. Gan Ping, Deputy Director of Shanghai Municipal Science and Technology Commission, at the initiation meeting that the "Yangtze River Delta Hydrogen Corridor Development" welcomes the participation of all enterprises and cities with combined efforts to promote hydrogen economy development at the regional and national levels".
Entrepreneurs, academicians and FCV experts from over 20 leading enterprises and universities attended the meeting, including:
- Tsinghua University, Tongji University;
- PetroChina, Shenhua/China Energy Investment Group, Shell;
- SAIC, Toyota;
- Anglo American Platinum;
- Air Liquide, Air Products & Chemicals , Linde Group;
- Shanghai International Automobile City;
- Shanghai Motor Vehicle Testing Technology Research Center;
- Dongfang Electric Group;
- China Steel Research Group; and
- Shanghai Re-Fire, Sunwise, Yilan Energy and HyFun.
(7)